15 Dec

EIMF launches new short online courses to boost career development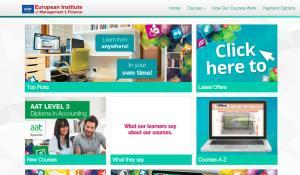 Professionals from around the world wanting to develop their career can benefit from a range of short online courses being launched by the European Institute of Management and Finance (EIMF)
The courses are designed to provide professionals with Continuing Professional Development (CPD) opportunities to fit around other commitments. All of which are professionally oriented and work-based allowing learners to immediately apply their knowledge to the workplace.
Online short courses, include titles such as:
Conflict Management
Leading and Motivating Teams
Organizing and Delegating
Performance Management
Prepare to Deliver Excellent Customer Service
Solving Problems and Decision Making
Stress Management
Understanding Leadership
At the EIMF we are passionate about providing educational and development opportunities for individuals at all points in their career. Our online mode of delivery provides flexibility in a way learners can access such opportunities.
Our short courses have the same learning principles applied to our full live programmes to provide a high-quality learning experience. Each course has a series of structured, developmental learning activities that professionals and are interactive using several learning tools including videos, case studies, and games.
Each short course offers reflective learning opportunity and creation of personal action plan and a certificate will be provided upon completion of the course. We are offering reasonable price for all of courses with most courses priced at €40.
You can check our website at http://eimf.theskillsnetwork.com. Register for any of the courses before the 31st of December and receive a course of same price or less for free. To take advantage of the offer register for one course and pay online and we will contact you to give you access to the second course of your choice.
Courses are approved by the CPD Certification Services and by the Accreditation Service for International Colleges (ASIC).
For further details or to discuss corporate packages please call us at 22274470[/vc_column_text][/vc_column][/vc_row]