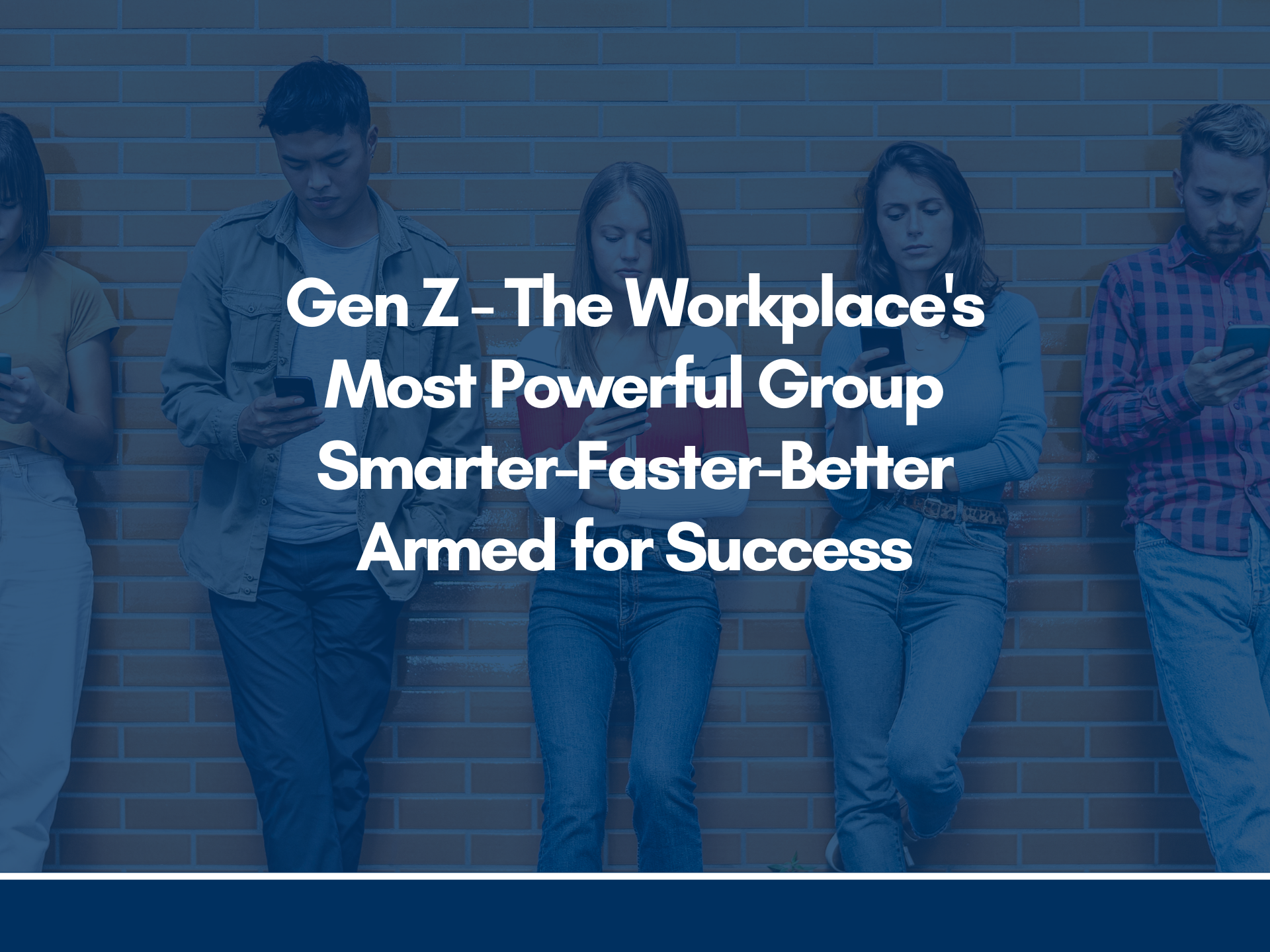 10 Feb

Gen Z – The Workplace's Most Powerful Group Smarter-Faster-Better Armed for Success

Do you agree that exceptional customer service begins with the hiring process? The first step towards delivering exceptional service to your clients starts at getting the right people on-board. The future of your business lays in the hands of your employees, no matter how clever you are, or how distinct your service offering is.

What you should be concerned about is how to find the right people who can eventually be the ultimate customer service agents. Services tend to be produced and utilised at the same moment, and aspects of the customer experience are altered to meet the individual needs of the person utilising the services.

People buy from people they like, so the appearance, behaviour and communication skills of the service agent can make or break a customer relationship. People are the most important element of any customer service experience.

 

We can all recall cases where the service offered by individuals has made or spoiled a restaurant or shop experience. People have an important role in service delivery, and they are relied upon to deliver and maintain transactional marketing. 

Very often, businesses focus on simply filling a position than hiring the right person for the job. Sometimes the people with the right qualifications, experience and skill set do not have the right attitude and mindset to blend in with your team and match your business goals. Moreover, if you simply focus on finding the "right" CV you will probably run the risk of missing out some possibly good candidates from different backgrounds. Also, a CV does not tell you much about the personality of the candidate. 

Sometimes we become too obsessed with hiring a 'perfect' candidate. But in fact, it is nearly impossible to find an ideal candidate because: a) they are already hired by someone else; b) you will not be able to identify them based only on the CV and interview.

The good news is there's no need to chase for perfection. The most important thing is to know what to look for in your potential candidates and keep that in mind during the interview.

 

 

Here's some tips to help you along the way.

 

 

Aim at hiring people with the below characteristics:

Hiring people who act as role models in their field of expertise are great examples for others. They tend to be good problem solvers, accountable and impartial. Leadership skills are critical in complicated situations when a customer expects someone to take lead and provide a quick solution.

Excellent communication skills are imperative in customer-facing roles. Effective communication, including active listening skills creates lasting relationships built on trust.  Being a great listener is the key to understanding customer needs, wants and concerns, especially when dealing with dissatisfied or angry customers.

Serving customers, especially in large-scale organisations, requires effective teamwork. Team players will build fast and strong rapport with all the team members and will be comfortable working in a collaborative environment with colleagues, management and even customers.

For an employee to succeed in their role, they need to be flexible to learn, unlearn and relearn, fit in many roles, and have an open mind to accommodate change. The most common problem that many organisations face, is the rigid mindsets and the resistance to change.

Every member of your organisation is either serving an external customer or an internal function that impacts the external client. Anyone from the IT to the Finance departments must have a positive attitude and a customer service mentality.
Customer-service mentality

To effectively serve customers, an employee needs to have a mindset of service, which is not only being always ready to serve others but be willing to go the extra mile for creating positive and memorable customer experiences and making customers happy.
The right people who can deliver an outstanding service is what creates loyal and repeat customers as well as a positive brand image. Your people are the face of your brand, and they can make or break your company's reputation.
Once you find and hire the right people, you then need to invest time and effort into regular trainings to make sure that they not only perfectly know your products or services but they are also able to serve your customers efficiently while showing the highest level of professionalism.
Andrie Penta (Ms) | Corporate Trainer & Consultant | Master Trainer at Door Training
LinkedIn Or Get In Touch via Email | [email protected].