Discover Your Path to Success with CISI and EIMF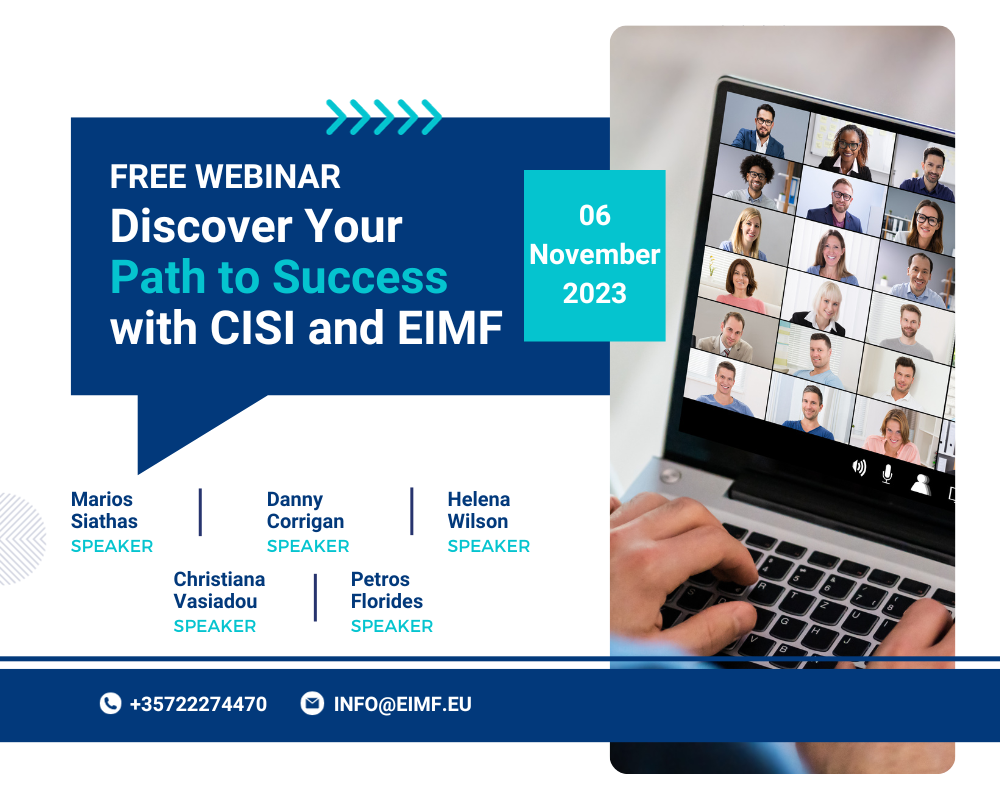 Are you looking to advance your career in the financial and corporate services sector? Join us for an exclusive online information session co-organized by the Chartered Institute of Securities and Investments (CISI) and the European Institute of Management and Finance (EIMF), the exclusive training partner for CISI in Cyprus.
CISI offers globally recognized qualifications that are designed, developed, and regularly reviewed by senior practitioners to ensure they are relevant for the Global market. The specialist knowledge you gain from taking a CISI qualification can be immediately transferred to your job role, whether that is business activities or client-facing advisory functions.
During this information session, co-hosted by CISI and EIMF, you will gain valuable insights into:
• Qualifications: Learn about our globally recognized qualifications that ensuree you have the skills and knowledge needed to excel.
• Career Opportunities: Explore the vast career prospects available to CISI members and how our certifications can open doors to new opportunities.
• Networking Opportunities: Find out how CISI and EIMF can connect you with industry leaders and peers through networking events and conferences.
• Membership: Discover the benefits of CISI membership, including access to exclusive resources, events, and a network of like-minded professionals.
• Local National Council Activities: Learn about the Cyprus national council activities that CISI offers, allowing you to engage with your industry community.
Don't miss this chance to kickstart or elevate your career with CISI and EIMF. Whether you're a seasoned professional or just starting out, we have something to offer you.
CISI is the largest and most widely respected professional body for the securities and investment profession in the UK and in a growing number of financial centres globally, while EIMF is the leading education provider in Cyprus with a focus on the financial services sector. Together, we offer a comprehensive offering of learning activities that can benefit you.
Speakers
Marios Siathas | Chief Executive Officer – EIMF
Danny Corrigan | Chief Executive, London Reporting House Ltd
Helena Wilson | Assistant Director – Global Business Development
Christiana Vasiadou | MCSI, Chief Executive and Compliance Officer, Global Markets Group Limited
Petros Florides | Chartered FCSI & CISI Cyprus, CISI Board Member, co-founder of NAC
Moderator
Marios Siathas | Chief Executive Officer – EIMF