EIMF | Insight into Anti Money Laundering Practices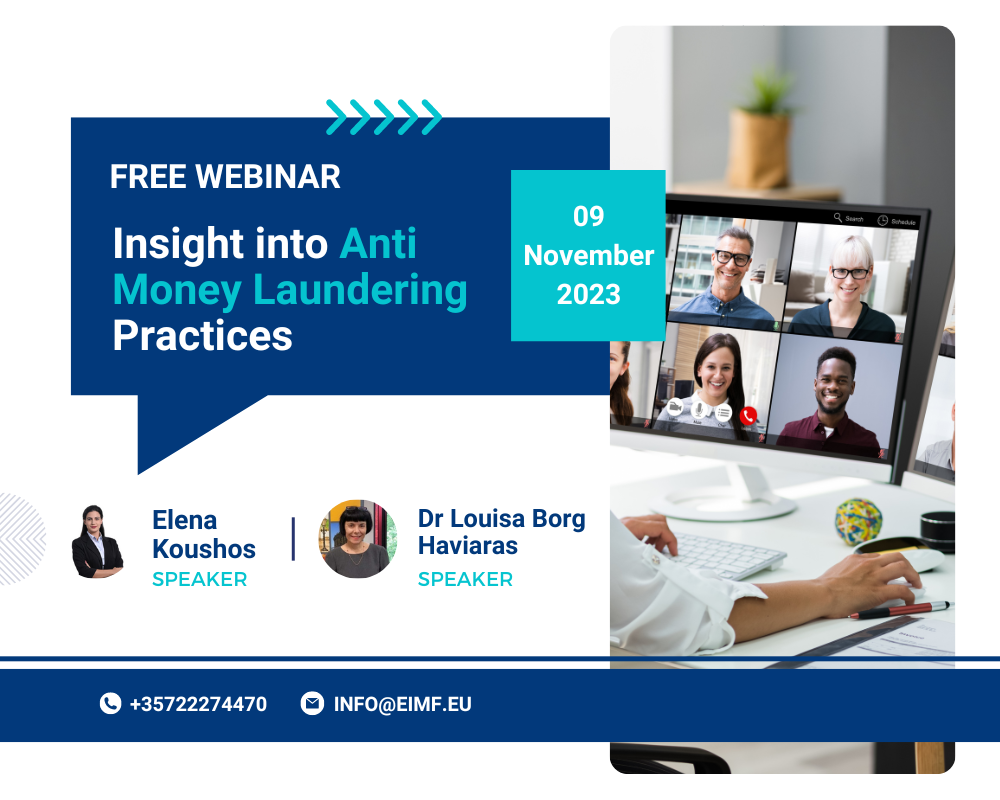 The Financial Action Task Force (FATF) describes money laundering as the processing of criminal proceeds to hide their illegal origin, enabling criminals to enjoy these profits without their source becoming known or exposed.
The prevention of money laundering and of terrorist financing cannot be effective unless money laundering and terrorist financing are checked and dealt with effectively.
This webinar will help attendees gain an understanding of the role AML compliance professionals and front-line business employees play in the effort to prevent these crimes as it breaks down a complex and significant topic down into five easy learning areas:
Presentation Objectives
– Gain an understanding of Money Laundering, Terrorist Financing and Sanctions
– Recognize the specific vulnerabilities to ML and TF and the risks faced by obliged entities
– Be able to identify ML and TF activities, understand what is meant by customer due diligence (CDD), recognize suspicious activity and what to do
– Become familiar with the legal and regulatory framework in place in fighting ML and TF
– Understand the Risk-Based Approach to handle the risk of ML and TF and the obligations of management in relation, formulating procedures, monitoring compliance, having the necessary resources and corporate culture
Outline
– An insight into Money Laundering (ML) and Terrorist Financing (TF)
– Vulnerabilities to ML and TF
– Anti Money Laundering and Combating TF in Practice
– Anti Money Laundering and Combating TF- Legal and Regulatory
– Management Obligations and the Risk-Based Approach to ML and TF
Speakers
Elena Koushos Hadjidemetriou
Dr Louisa Borg Haviaras
Missed the Webinar? Watch the Recorded Video!