03 Nov

CISI, EIMF & CIFA Event: Promoting Financial Products

On the evening of Wednesday 1st November, the Chartered Institute of Investments and Securities (CISI), the Cyprus Investment Fund Association (CIFA) and the European Institute of Management and Finance (EIMF) had the pleasure of welcoming professionals to the Londa Hotel in Limassol, to hear about upcoming regulatory changes surrounding the "Promotion of Financial Products and the Ethics Associated with Promoting", presented by an international expert Mr Adam Samuel.
The event was opened by Mr Petros Florides, the President of the CISI National Council, Cyprus who welcomed and thanked both the audience and the speaker for joining the evenings event.  Petros Florides noted that Cyprus is very important to the CISI, currently holding the 2nd place in CISI examinations, after the UK.  Petros Florides continued by emphasising that the CISI and the National Council in Cyprus are committed to the financial sector on the island and encouraged professionals to join this vibrant and dedicated local community.  Many members were present and Petros Florides thanked them for their continued support.  Petros Florides also noted that the CISI is offering 50% discount for new members until the end of the year.
The event continued with a brief introduction by Mr Marios Siathas, General Manager of EIMF, who also thanked the audience for joining the event and the CISI for the strong partnership and cooperation.  Marios Siathas reiterated the EIMFs commitment to the financial services sectors in Cyprus and the importance of knowledge and competency on new regulations, such as MIFID II, and Professional Qualifications as those offered by the CISI.  Marios Siathas noted that the CISI qualifications enhance the knowledge and practical skills of professionals in key areas, that are sought after by employers in Cyprus.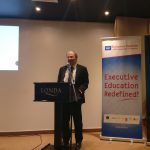 Following the brief introductions, the event continued with the key speaker of the evening Mr Adam Samuel who addressed critical issues surrounding the MIFID II obligations and the promotion of financial products, and discussions were had on practical issues such as the importance of understanding the product, requirements for product governance, different means of advertising and promotions, risk disclosure and much more. At the end of the evening the CISI President, Petros Florides once again thanked everyone for attending the event reminding them of the benefits of joining the CISI community in Cyprus, and of the 50% discount offer for those joining before the end of the year.  Petros Florides also thanked the National Council committee members: Charles Charalambous (representing CIFA at the event as well), Donna Stephenson, and Emilios Tanoussis. The evening came to a close whilst attendees networked, exchanged views and shared questions with other professionals, CISI members, the EIMF team and the evenings key speaker.
To find out more about becoming a CISI Member in Cyprus and the 50% discount offer to those joining before the end of the year, please visit the website.