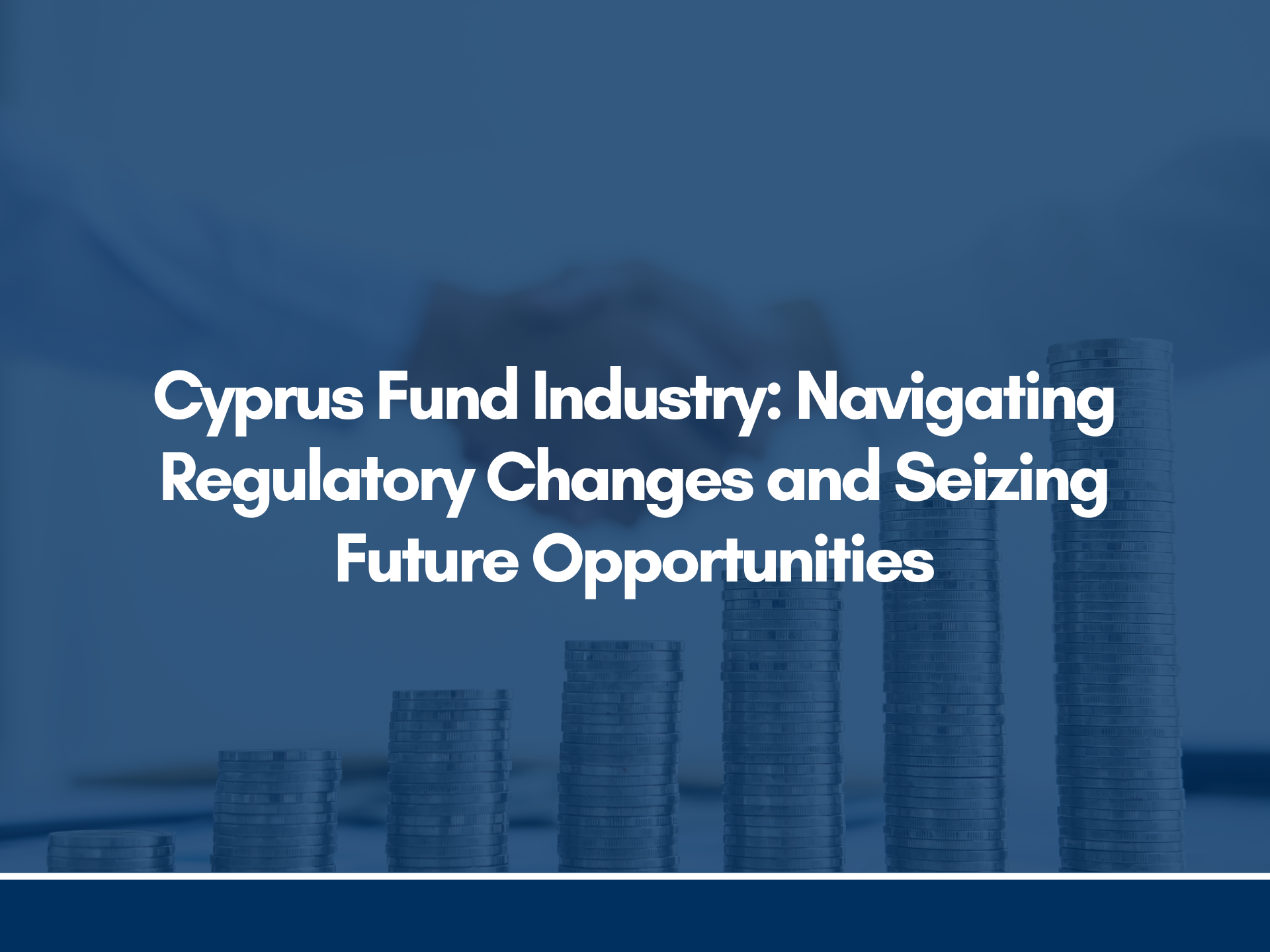 29 Sep

Cyprus Fund Industry: Navigating Regulatory Changes and Seizing Future Opportunities

The global landscape of investment funds is in a perpetual state of flux, and amidst this ever-shifting terrain, Cyprus is emerging as a dynamic and rapidly expanding hub for fund domiciliation. To comprehend the intricacies of Cyprus' fund industry, one must embark on a journey through its multifaceted legal framework, the broader context of global fund regulation, the pressing challenges it faces, the promising avenues it presents, and the pivotal role played by regulatory authorities. Cyprus, nestled at the crossroads of Europe, Asia, and the Middle East, has been strategically positioning itself as a preferred destination for fund managers and investors, promising both stability and growth prospects.

Understanding Cyprus' Fund Ecosystem

At its core, a mutual fund is a collective investment vehicle that pools money from investors, managed by a professional fund manager who adheres to a predefined investment strategy. Investors in mutual funds participate in both profits and losses based on their contributions to the fund.

In the European Union (EU), there are two main types of mutual funds: UCITS (Undertakings for Collective Investments in Transferable Securities) and AIFs (Alternative Investment Funds). UCITS primarily invest in transferable securities like stocks and bonds, while AIFs have a broader investment scope, including real estate, commodities, and various other assets.

Both UCITS and AIFs are considered "open-ended funds," meaning their net asset values (NAVs) fluctuate based on subscriptions and redemptions. In contrast, "closed-end" funds issue a fixed number of units or shares.

A Brief History of EU Fund Regulation

The journey of harmonizing fund regulations in the EU began in the mid-1980s with the adoption of UCITS I, which laid the foundation for a unified regulatory framework for mutual funds in the EU. The directive aimed to facilitate the cross-border marketing of funds within the EU, granting funds licensed in one member state the privilege to be sold across the entire EU market—a concept known as the European passport.

Luxembourg and Ireland were pioneers in implementing UCITS regulations, solidifying their positions as fund industry leaders. Over the years, UCITS directives evolved, with UCITS III and IV introducing substantial changes and expanding the industry's assets significantly.

However, the global financial crisis and high-profile scandals, such as the Bernie Madoff case, exposed shortcomings in the UCITS regulatory framework. Consequently, in 2012, the EU launched efforts to enhance and strengthen regulations related to depositories, remuneration, and sanctions. These enhancements culminated in UCITS V, which is currently in force, incorporating changes into Cypriot national legislation.

The Global Fund Market

The global mutual fund market is vast, with assets under management (AUM) reaching nearly €61 trillion in open-ended funds by Q4 2022. Equity funds dominate the market, with the United States leading as the largest global market, followed closely by Europe.

When we focus on the European market, UCITS funds hold a significant share, with Luxembourg and Ireland serving as the primary UCITS hubs. In the AIFs space, Germany claims the top spot, with France and the Netherlands also making notable contributions.

Principal Stakeholders in Fund Ecosystem

Key players in a UCITS fund include the fund manager, depositary (or custodian), and, potentially, a fund administrator. In the case of AIFs, similar roles exist, with some variations. The custodian plays a pivotal role in overseeing fund activities and ensuring compliance with laws and regulations.

Fund administrators, though not mandated by Cypriot law, are vital for fund prestige and investor transparency. They handle fund accounting, valuation, registry and transfer agent services, and regulatory reporting.

External auditors and legal advisors offer essential services, while distributors and prime brokers facilitate fund distribution and trading, respectively.

The Evolving Legal Framework

The fund industry operates within a highly regulated environment, with several EU directives and regulations governing UCITS and AIFs. UCITS alone have seen five directives, with proposed amendments to align with evolving market conditions.

Recent proposals in November 2021 aim to harmonize UCITS and AIFM directives further, emphasizing delegation rules, minimum substance requirements, regulatory reporting, and cooperation between regulators across member states.

Upcoming Fund Administration Law in Cyprus

A significant transformation is on the horizon for fund administration in Cyprus. Currently, fund administration tasks are embedded within the responsibilities of fund managers, with no specific regulations in place.

Cyprus' regulatory body, CYSEC, is preparing a new fund administration law that will redefine the landscape. This law will mandate specific licensing requirements for entities offering fund administration services, setting minimum capital requirements and governance standards.

Entities already providing fund administration services will need to seek authorization, while fund managers and some other regulated entities will be exempt. The proposed law will introduce transparency and enhance investor protection in the fund administration sector.

In Conclusion, Cyprus is poised for continued growth in its fund industry, thanks to its favourable regulatory environment and strategic location within the EU. As global regulations evolve, Cyprus is adapting to seize opportunities and solidify its position as a leading fund domicile in Europe. The upcoming fund administration law is a significant step toward enhancing transparency and investor confidence in the industry.