26 Apr

Why You and Your Team Should Earn an AML Certification

Do you have what it takes to join the ranks of anti-money laundering specialists? Do you need them on your financial services team? Current research and future trends indicate an increasing need for AML, risk and compliance specialists across the finance and accounting profession, a trend fueled by business growth, increasing regulatory demands and government scrutiny of banking corruption and terror activities.

The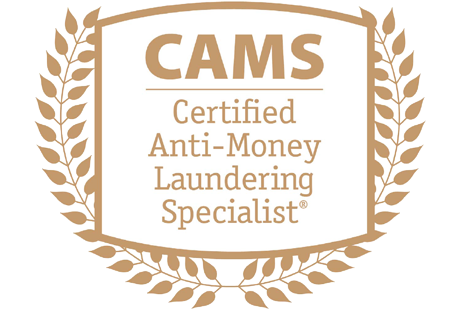 Certified Anti-Money Laundering Specialist (CAMS) credential is the gold standard in AML certifications and recognized internationally by financial institutions, governments and regulators as a serious commitment to protecting the financial system against money laundering. Institutions with CAMS-certified compliance teams:

Drive a culture of compliance from the top down by building highly skilled teams staffed with subject matter experts
Demonstrate to regulators and examiners their dedication to a standardized risk-based approach for protecting against money laundering threats and financial crime risks
Attract, retain and reward top talent by placing a premium on certified professionals according to the 2015 ACAMS AML/CFT/FCP Compensation Survey
Meet mandated AML training requirements through preparation and study and satisfy ongoing training through recertification and advanced certification activities
Safeguard against financial and reputational damage


---
Click here to learn more about our upcoming CAMS Preparation course on the 6th and 13th May
---
Opportunity to join the ACAMS Cyprus Chapter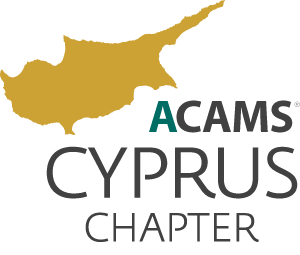 ACAMS Cyprus Chapter will provide a platform for AML and general compliance professionals in Cyprus, across all industries and professional practices, regulators and law enforcement, for the enhancement of knowledge, personal development and exchange of experiences and expertise on anti-money laundering and countering terrorist financing. ACAMS Cyprus Chapter welcomes those interested in enhancing their AFC knowledge, even if they are not currently practising in a relevant role.
ACAMS Cyprus Chapter's vision is to offer an environment that facilitates networking amongst members, encourages its members to speak up and express their ideas and concerns and start thinking outside the box. It envisages discussion to identify practical solutions to aid the implementation of the various provisions of the relevant regulations and related directives, within the framework of required professional and ethical standards. ACAMS Cyprus Chapter aims to achieve these goals by organising specialised training events to facilitate learning and education, thus supporting ACAMS in its general mission, which is to support and advance the knowledge and skills of the Cyprus AML and financial compliance community.
Money laundering defined
Money laundering is the process of making illegally gained proceeds (i.e. "dirty money") appear legal (i.e. "clean"). Typically, it involves three steps: placement, layering and integration. First, the illegitimate funds are furtively introduced into the legitimate financial system. Then, the money is moved around to create confusion, sometimes by wiring or transferring through numerous accounts.
Finally, it is integrated into the financial system through additional transactions until the "dirty money" appears "clean." Money laundering can facilitate crimes such as drug trafficking and terrorism, and can adversely impact the global economy.

The scope of the problem
The United Nations Office on Drugs and Crime estimates that the amount of money laundered globally ranges from Euro 750 billion to Euro 2 trillion per year.
The EIMF is the training partner for ACAMS in the region. If you need further information about ACAMS membership or the CAMS Certification please contact us at 22274470 or by email at [email protected]