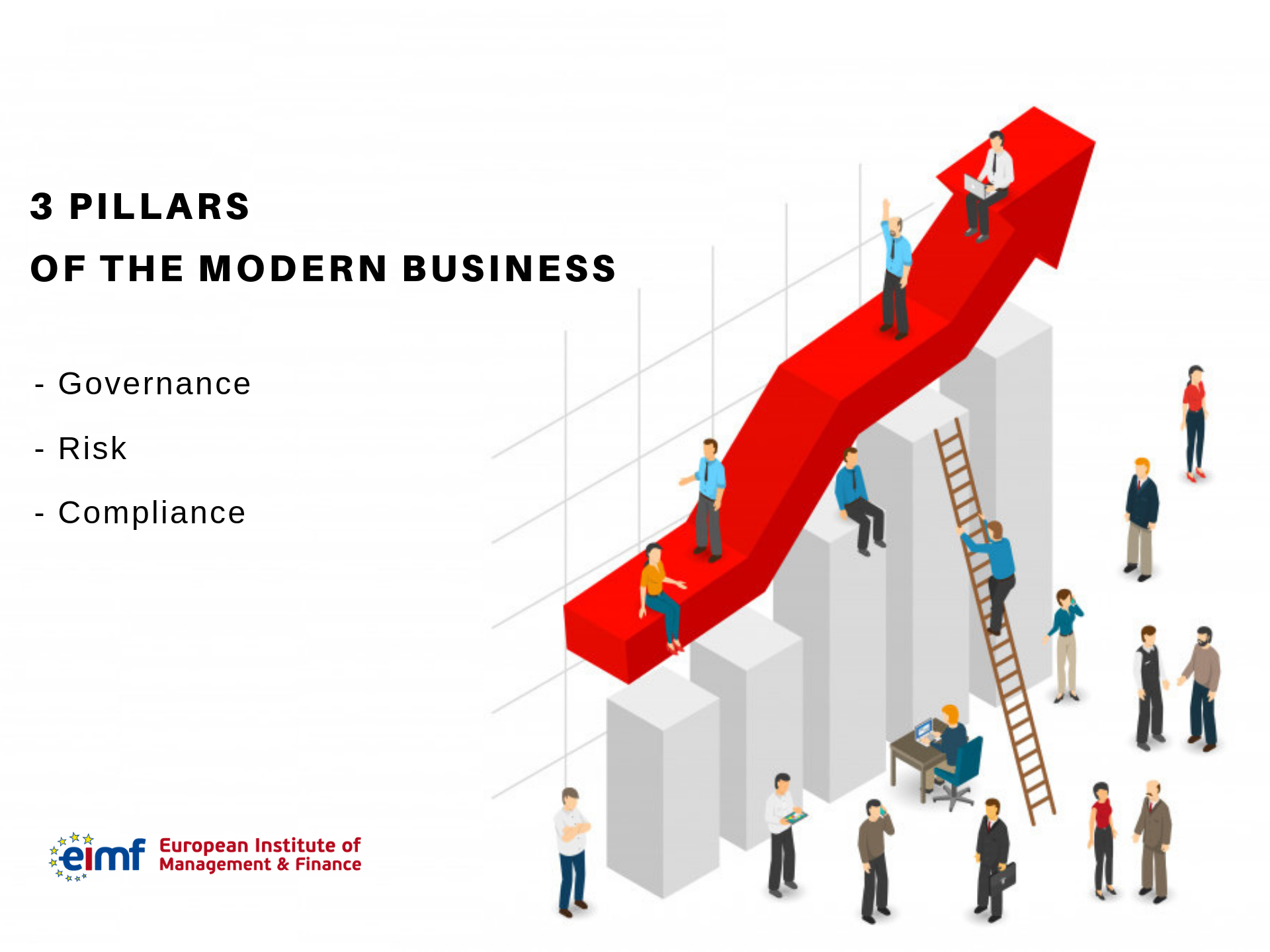 28 Feb

The 3 Pillars of the Modern Business | Governance, Risk, Compliance

When part of a broader operational governance strategy, Governance, Risk and Compliance (GRC) practices ensure continuous oversight and help businesses strike the right balance between cost optimization, risk management, and capacity for innovation.

Effective GRC management means organizations need to gather important risk data, validate compliance, and report results to management.  Definitions of GRC vary, as do the potential applications, uses, and organizational approaches to implementation.

GRC Components – the 3 Pillars:
Governance describes the overall management approach through which senior executives direct and control the entire organization, using a combination of management information and hierarchical management control structures.
Risk Management is the set of processes through which management identifies, analyses, and where necessary, responds appropriately to risks that might adversely affect the realization of the organization's business objectives.
Compliance means conforming to a set of requirements, as defined by laws, regulations, standards, contracts, strategies, and policies.
With a constantly changing regulatory environment and the increased risk exposure, organizations are beginning to work towards a holistic and integrated GRC framework, that views all these three lines of defense as mutually related and interdependent functions.
There are three key aspects to successful GRC implementation:
Developing the policies and framework holistically in consultation with all stakeholders involved
Training all relevant employees in relevant topics
Communicating the framework with all employees and gaining their acceptance and execution
Companies will often focus on the first area, devoting both time and resources in ensuring that the framework is well designed, but unfortunately, the other essential areas of effective training and communication, are not given the required attention and are not executed in a manner that will ensure positive results.
Appropriate GRC training is an inevitable component for employees, management and board members, forming an important part of their continuous learning that will lead to the success of the GRC design and implementation process.  The EIMF GRC training courses provide comprehensive knowledge for all levels of the organization including the Board.
We take pride in delivering GRC content, in collaboration with our global professional associations and bodies, based on continually evolving best practices giving participants a hands-on experience in tackling real-world issues.
The industry expertise of our highly experiences instructors, together with comprehensive course materials and case studies, provide participants with the knowledge needed to support the organization in achieving its goals.
The result? Training and certification courses that are accredited and endorsed by a wide range of professional global association, that provide an exceptional return on investment.
The EIMF offers numerous opportunities for GRC training, designed to meet a variety of professional needs. Highlighted below are a sample upcoming in March:
MiFID II: Safeguarding Client Money and Assets | 18 March | More information
Risk Governance Workshop | 18 March | More information
A Review of MiFID II Best Execution | 19 March | More information
Understanding and Managing Emerging Financial Crime, Bribery and Corruption Risks | 19 & 20 March | More information
A Practical Insight to MiFID II's Product Governance Regime | 20 March | More information
Risk Management Workshop: Risk Handling and Treatment Options | 21 & 22 March | More information
Corporate Governance in Banking: Strategic Issues and Practical Aspects | 22 March | More information
Certificate in Anti‐Money Laundering and Financial Crime Compliance | 27 March & 03, 10, 17 April | More information
Compliance Essentials: AML and MiFID II in Practice | 29 March & 12, 19 April | More information
---
Check out our Online Calendar for other similar workshops, as well as many other training programmes covering a wide spectrum of business areas – the most comprehensive list of training subjects in the market, most of which can also be offered in an in-house capacity.