17 May

Governance, Risk Management, Compliance, and Ethics (GRCE)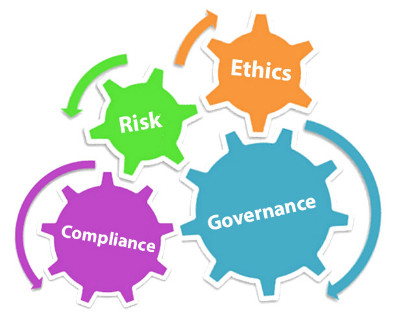 In today's complex and demanding operating environment, an organization must be able to exploit the synergies coming from an inter-disciplinary approach so that stakeholders ever-increasing expectations can be met.
Few disciplines complement each other as effectively as governance and risk management – particularly when applied enterprise wide. Providing additional substance to this dynamic partnering is the interaction between compliance and ethics that ensures not only the required things get done, but also for the right reasons too.
It is becoming increasingly clear that stakeholders now expect everybody in an organization to positively contribute to the achievement of goals and objectives. As a result, capabilities that may have been confined to particular functions or levels in the hierarchy are now expected to be applied across the whole organization and at all levels.
EIMF is organizing a two-day workshop that will take the respective 'silos' of governance, risk management, and bring them together to form a comprehensive framework for achieving enhanced organizational conformance and performance. For further details, please visit https://eimf.eu/grce/
The workshop will be presented by Petros Florides, Chartered FCSI, President of the Chartered Institute for Securities & Investment (CISI) in Cyprus. Petros has worked as a finance professional within the securities and investments industry for over 20 years in the areas of private banking, fund management, stockbroking, private equity and principal trading. For the past 10 years Petros has been on the board of a number of micro-finance institutions in Eastern Europe and is currently employed as a Regional Governance Advisor for World Vision International – one of the world's largest organizations in the field of humanitarian aid and assistance.
Petros is an honours graduate in Accountancy, a Chartered Management Accountant, a diploma-holding member of the Institute of Directors and a Certificate of the Institute of Risk Management. He sits on the Ethics & Risk and Human Resource & Training Committees of the Cyprus Investment Funds Association.