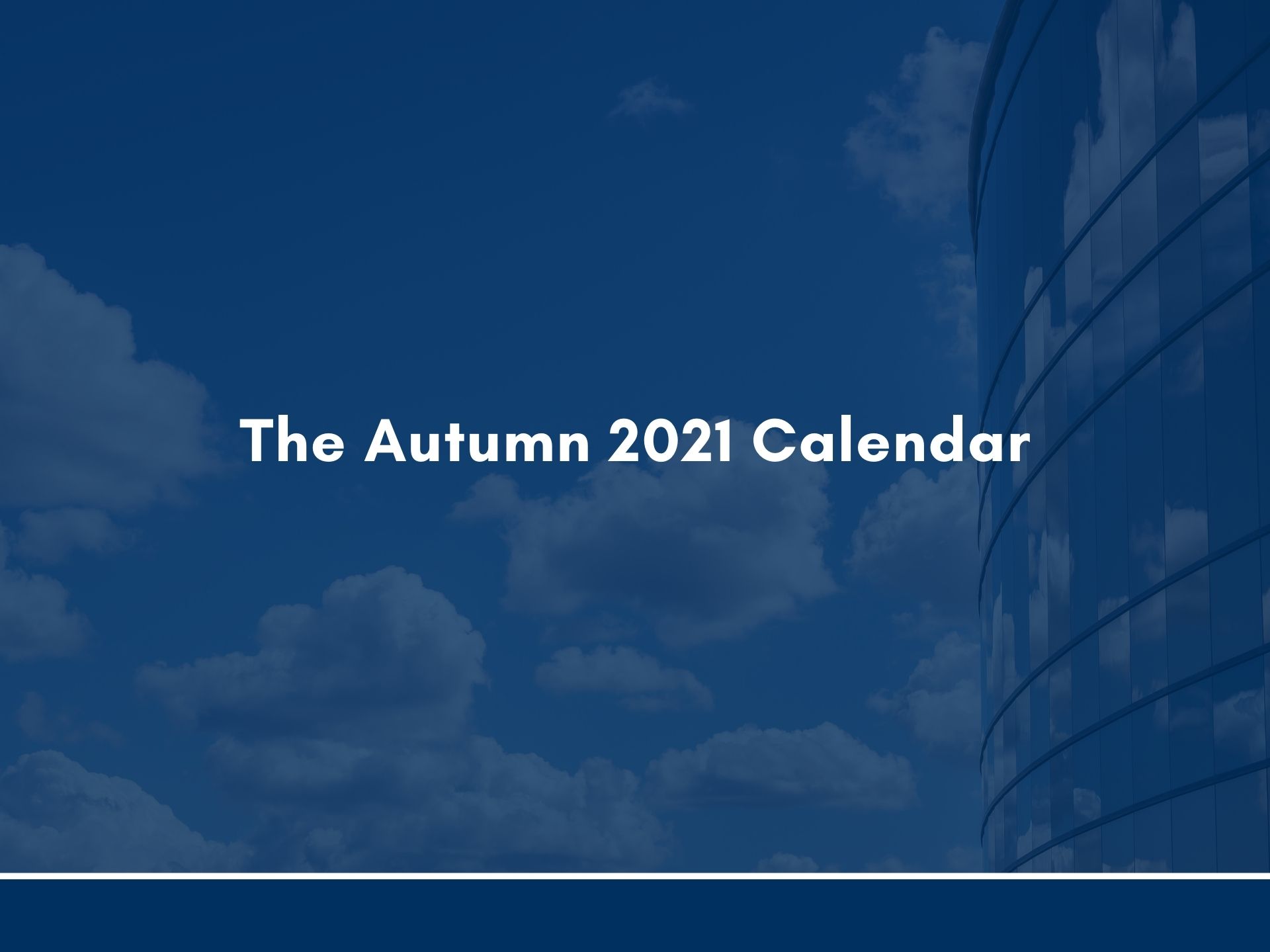 20 Jul

The Autumn 2021 Calendar | A New Exiting Season Awaits Us!!
But First…What Transpired in the Spring of 2021
Although the first half of the season was not without its challenges, as the COVID situation remained a part of our lives, for EIMF it was very much "business as usual!  In fact, we can say that the season witnesses preferable new ways of carrying out everyday business, conducting meetings, delivering training courses, introducing new initiatives and so much more!!  
Greater Choices and an Enriched Learning Experience
Technology once again played a vital role in this, and for EIMF this signified a fantastic range of learning opportunities, further investment in the latest systems ensuring the highest quality of learning whatever your preference – self paced eLearning, live online or hybrid learning!  New systems also brought an ease of access to our learners with a more personalized "one-point access" to all their learning.  Additionally this season, our friends were able to take advantage of new topics across an abundance of areas, prepare for global examinations, attain critical knowledge, as well as insights and best practices from both local and international industry-experts – new experts joined the EIMF family!
Virtual Learning – the New Normal
We are delighted that virtual learning has been so greatly received by both organisations and individuals, enabling, in just the first half of the year, 5000+ professionals across all industry sectors – banking, finance, legal, compliance, AML , fund, accounting, retail, project management, risk, hospitality  and of course, technology –   to acquire new technical knowledge, consider the latest regulatory updates, complete necessary CPD units, gain new business and management proficiencies, and develop critical "every-day" skills, all of which positively contribute towards individual professional enhancement and to the success of teams, departments and organisations.  
In fact, our technology training opportunities – through the New Horizons, computerized learning centres have been advancing with very quick steps!  Vendor authorized training, Official courseware and topics across the technology range were offered – from everyday Microsoft courses to other more specialized topics, viz, Microsoft Azure, CompTIA Cybersecurity Analyst, Cisco CCNA and more!
EIMF Overseas
Of course, our friends and associates continue to expand across borders with further development observed in our international market.  We welcomed professionals from numerous overseas Banks, Trust and Investment firms, FCA regulated firms, Fund and Portfolio Management companies and other financial services organisations abroad, who turned to the specialization that EIMF was able to offer their organisations.  Our London Governance & Compliance Academy continued to assist our FCA regulated entities with many of their challenges this season, continually meeting their regulatory challenges! Likewise associations, both locally and abroad, also directed their training needs to the EIMF team during the spring season to update their knowledge and provided their personnel with assured, high standards of training.
International Recognition and Qualifications
We were also pleased to see many professionals choosing courses that lead to globally recognized qualifications, further endorsing the importance of our international associations, that allow professionals to work towards these high calibre professional examinations, whether it be the Chartered Institute of Securities & Investments (CISI), the Association of Certified Anti-Money Laundering Specialists (ACAMS), GDPR Certifications (EXIN), Cyprus Security and Exchange Commission (CySEC Examinations), the Association of Accounting Technicians (AAT), to mention but a few. Furthermore, the International Governance & Compliance Association (IGCA) memberships continues to grow in numbers as risk, cybersecurity, and governance professionals come together to exchange knowledge and share experiences.
The Most Important Notice of All
Before, looking ahead to the autumn season there is something of utmost importance to be said by the EIMF team, a HUGE THANK YOU!    
To YOU our friends and associates who continue to believe in our expertise and entrust us with your learning and development requirements!  This is greatly valued and appreciated!  We in turn continue with the same zeal and enthusiasm as always to offer our advice, to deliver the most updated industry knowledge, to accommodate specific needs that are important to you, to offer variation and choice of topics, to work eagerly and energetically to offer critical skills, knowhow, best practices and insights that aim at helping individuals and organisations to reach their goals!! 
With EIMF Compliments
We hope you were also able to take advantage of our Free Webinars that we were happy to offer you this season, whether these were to look at hot topics such as Sustainability and how ESG is now critical to everyone, to consider the new EU Whistle-blower Directive in preparation for what's coming, or to consider what's new for Leasing Agreements – IFRS 16.  On the other hand perhaps you found the discussion on Legal Tech and Digital Transformation particularly revealing!  Whatever your interest we hope that the topics enriched your professional knowledge as well as heightening your knowhow in other areas that towards navigating everyday challenges!  The extremely successfully Well-Being series offered 7 webinars covering vital areas for safeguarding our well-being – nutrition, physical, emotional, financial, family, social…and more!   Thank you for being a part of our EIMF Family!
Moving Forward to the Autumn Season
So, let us take a very quick look at what the Autumn Season has in store for us! Everyone will witness a NEW FACE to our webpage of Training Programmes, our largest ever selection – 130 + courses and programmes, a fantastic combination of the most popular workshops and brand-new topics and Professional Certification opportunities. These include HRDA subsidized programmes, all offered via a selection of short workshops, few-day programmes or more extensive programmes that are delivered by our industry-experts via Live online deliver and classroom. Additionally, customized programmes and a vast selection of eLearning courses further enhance the learning choices. 
Brand New Courses
The new season will see a continued growth in the technology areas, through our New Horizons computerized learning centres, whilst other brand-new courses within specialised areas will include, Environmental, Social, and Governance (ESG) related courses – a topic that has become a recent must – including the CFA Certificate in ESG Investing, a number of Fintech related learning areas with the very latest knowhow in an area that is changing many businesses.
Other new courses will take a specific look at how to Set up Ethics & Compliance Programmes, How to Conduct a Compliance Risk assessment or perhaps the Mediation Skills programme or Company Taxation & Administrative & Procedural Aspects of the Cyprus tax System will catch your interest!!  If you're looking for a new certification, then you may wish to consider the Global Compliance Institute – Foreign Tax Specialist (FTS) course.  
Popular Topics, CPD Courses and Exam Preparation Courses
Enjoy our more traditional popular courses you have grown to know?  There will be an abundance of courses to choose from in areas surrounding, compliance, AML, funds, soft-skills, accounting, legal, governance, administration and so so much more – all to help achieve the very best and stay abreast of the ongoing changes and challenges!!!!!
Stay Tune for More Summer Announcements!
Not sure what to do or need assistance with choosing for your teams?
Give us a call or set up a meeting!

Sophie Kyriacou – Book a Meeting Here
Panayiotis Marinou – Book a Meeting Here
Joanna Vryoni – Book a Meeting Here
We will be here throughout the summer months to help you plan ahead! 
View the PDF Calendar Here
View the Online courses Here – Courses are being uploaded minute-by-minute!
Wishing you a Lovely Summer!